Technology
iOS 16.1 introduces new app-based copy and paste permission settings
iOS 16.1 introduces new app-based copy and paste permission settings
iOS 16 introduced a new privacy feature that requires apps to get the user's permission before directly accessing their iPhone's clipboard to paste text from other apps, but some users ran into an issue that caused the prompt to pop up excessively. Apple released iOS 16.0.2 with a fix for the problem and other bugs at the end of September.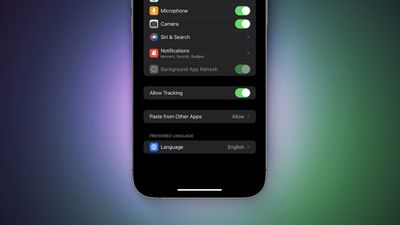 Apple continued to refine the copy and paste feature in the following weeks. In the Settings app on the fourth beta of iOS 16.1 and later, a new "Paste from other apps" menu appears for apps that previously asked for permission to paste content from another app. You can find the menu in the Settings app → [App Name] → Paste from other applications.
The menu offers users three options:
Ask: The app must keep asking for permission to paste content from other apps.
Prohibited: The app cannot paste content from other apps.
Allow: The app can paste content from other apps without asking for permission again.
The menu gives users more granular control and flexibility over copy and paste permission prompts, which should help make the privacy feature less of a nuisance. Note that the menu does not appear for apps that have never asked for clipboard permission.
Last month, an Apple engineer he said the copy and paste permission prompt appears only when the application tries to access the clipboard directly. The prompt does not appear when the user selects the "Paste" option in the menu that appears after highlighting text or when interacting with applications that have paste buttons based on the UIPasteControl framework.
iOS 16.1 remains in beta testing and is expected to be released later this month.
(Thank you, Youssef Salem!)
Related Stories
Popular Stories




#iOS #introduces #appbased #copy #paste #permission #settings