Mobile
Oppo AirVOOC 50W Wireless Charging Charger Test
Oppo AirVOOC 50W Wireless Charging Charger Test
Wireless charging speeds are not what they used to be. Back in 2009, wild palm Gave us our first experience with wireless charging via a Touch Stone charger and a special back cover. Soon after the Qi wireless industry standard came out, though, charging speeds only exceeded 5W and later expanded to 10W and eventually 15W.
There are faster alternatives like the Oppo AirVOOC 50W Wireless Flash Charger that we have here today for testing. As the name suggests, this wireless charger supports speeds of up to 50W for select Oppo and OnePlus devices. We have already tested vivo 50W Wireless Flash Charger Return period that I managed to fill Vivo X80 Pro 0-100% in 58 minutes and we are now trying the 50W Oppo Wireless Charger along with Oppo Find X5 Pro It is one of the few supported devices that can wirelessly charge at 50W.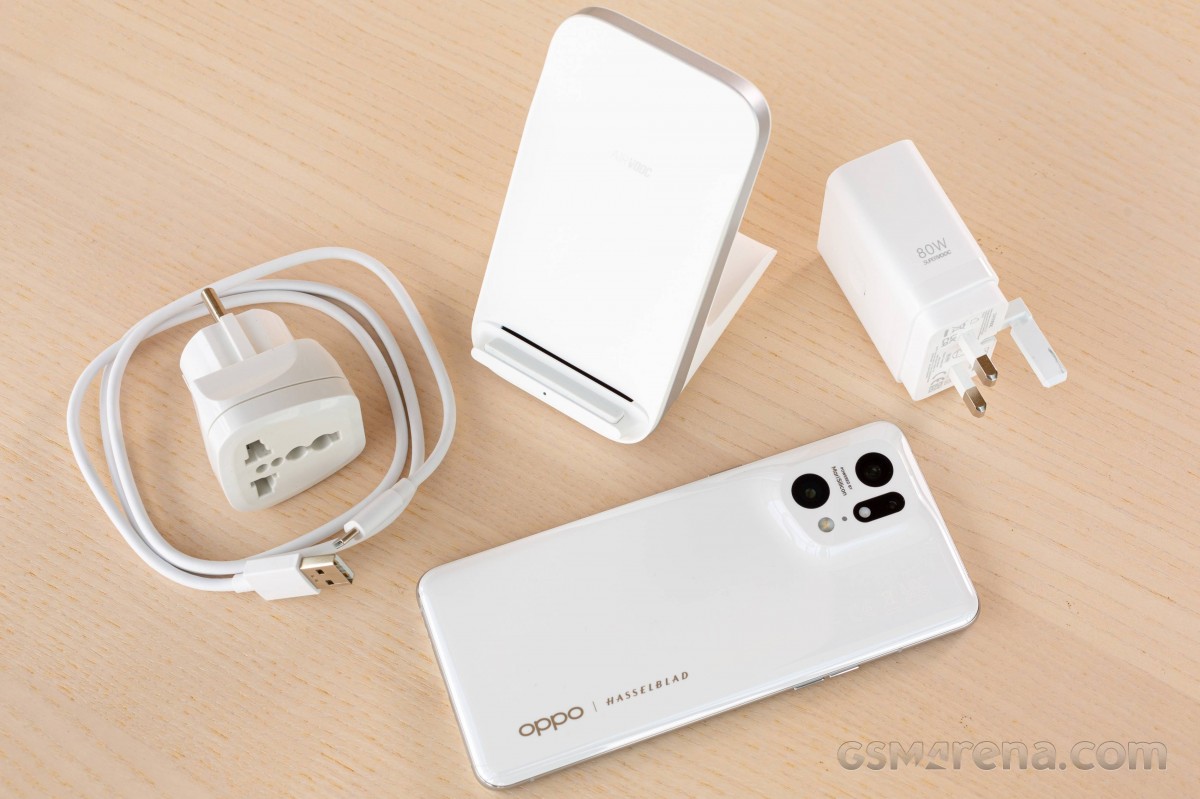 Oppo claims that a 0-50% charge will only take 22 minutes and a full charge should complete in 47 minutes – 7 more than it did with the 80W SuperVOOC wired charging adapter that came with the phone. We put these claims to the test and these are our findings.
Before you can charge wirelessly at speeds of 50W, you will need a 65W PD (or higher) charger connected to the AirVOOC 50W Wireless Flash Charger to achieve the advertised speeds. Fortunately, the Oppo Find X5 Pro comes with an 80W SuperVOOC (20V/4A) power adapter and the required USB-A to USB-C cable. For reference, Find X5 Pro was able to charge 0-40% in 12 minutes and 0-100% full in exactly 40 minutes using the built-in 80W charger.
The 50W AirVOOC wireless charger can also dynamically adjust charging output based on the device it's charging, so you can also charge your iPhone 13 at 7.5W or any of the Galaxy S22 series phones at 15W.
So what does the AirVOOC 50W wireless charger come with? Just a USB-A to USB-C cable. You don't get the required 65W SuperVOOC power adapter, so you'll have to supply your own build unit.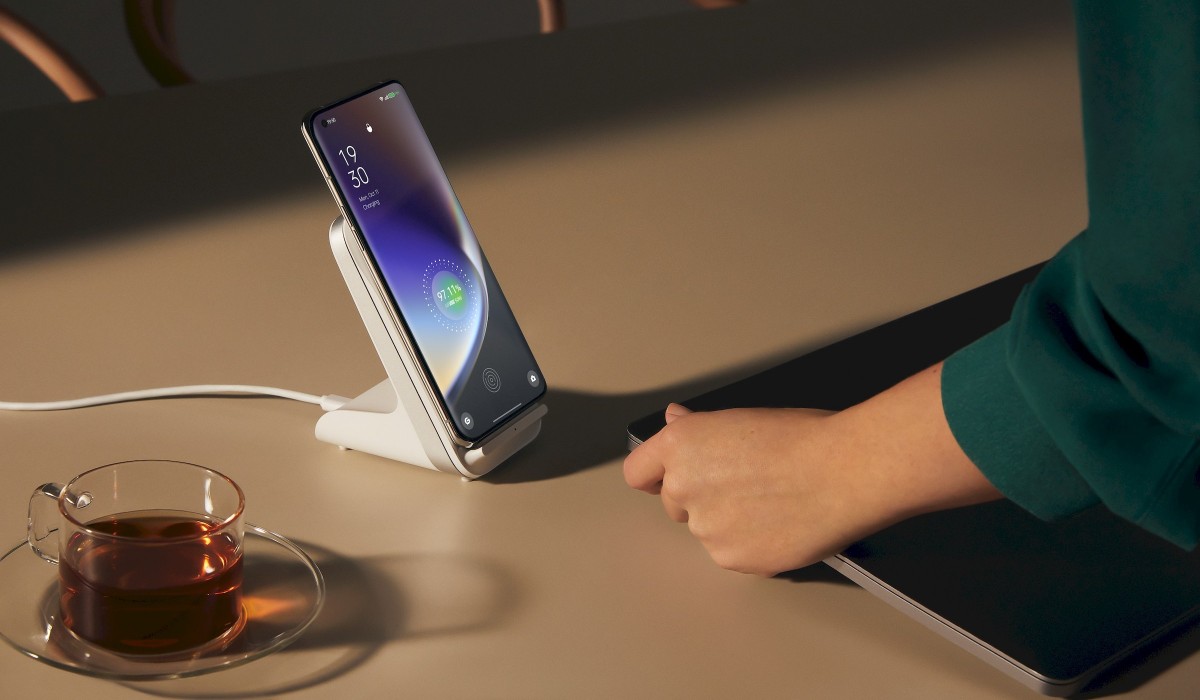 The AirVOOC 50W offers a dual wireless coil design that allows for a greater sensing range. The cradle also comes with a fan that spins at 3600 RPM to keep temperatures in check and has a duct under the phone holder that blows cool air to keep temperatures in check. You can place the phone upright and in a horizontal position while charging and you can also put a case on the phone as long as this case is no more than 2mm thick.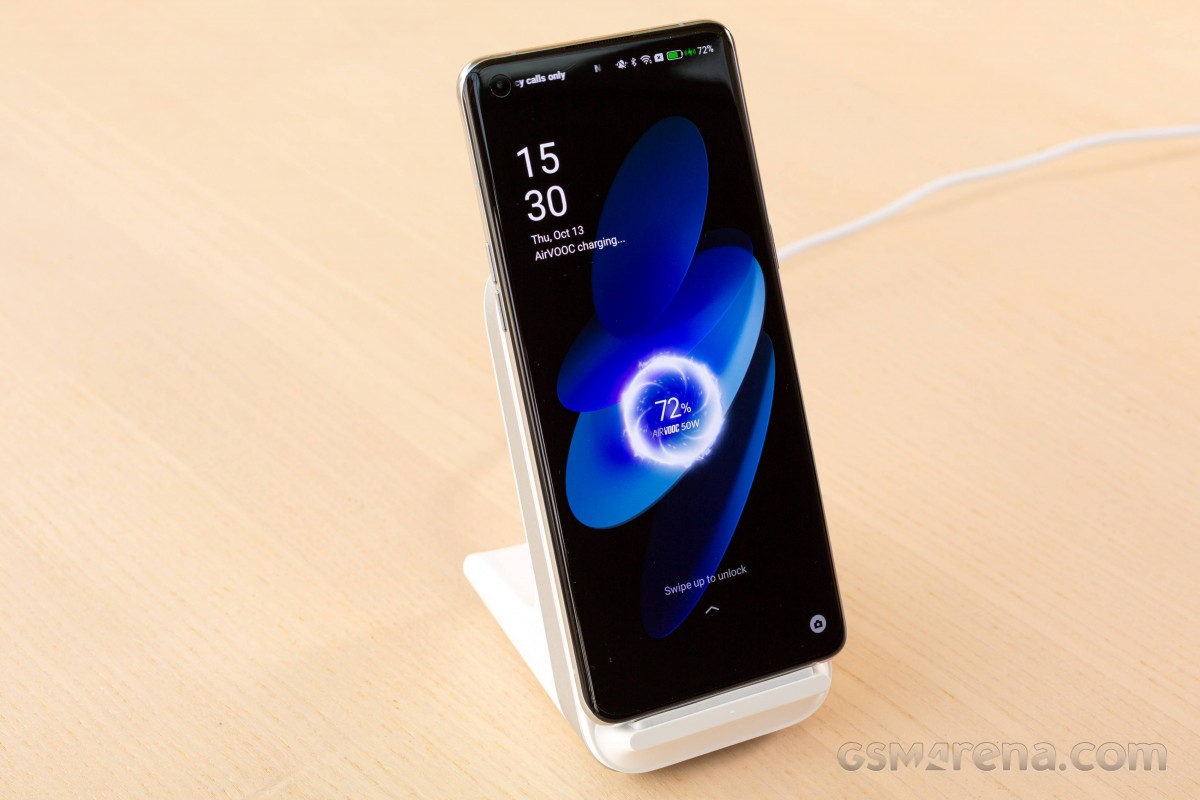 The charger also comes with several safety measures including overvoltage and overcurrent protection, temperature monitoring, electrostatic charging protection, low voltage display and foreign object detection – which can detect things like coins and prevent charging.
Oppo has also added a silent charging mode that allows you to mute the fan during specific hours of the day or night. The Oppo Find X5 Pro has a special subsection in the battery menu settings where you can toggle the quiet charging mode. The charger comes with a set of rubber feet that raise 3mm above the surface to allow for better airflow.
The AirVOOC 50W weighs 180 grams. Oppo's 80W SuperVOOC charging brick weighs 120g while the cable weighs another 30g making the total for our AirVOOC 50W charger 330g.
And now the results.
In our test with the Oppo Find X5 Pro we measured 53 minutes Vs 1-100% AirVOOC 50W Wireless Charger Flash. That's 6 minutes more than Oppo claimed 47 minutes although we have to take into account room temperature as a key variable. The Find X5 Pro reached a charge of 13% after just 5 minutes on the charger and was sitting at 50% after 23 minutes, which is just a minute away from what Oppo claimed.
The SuperVOOC 80W wired charger took from Oppo 40 minutes For a full charge of 1-100%, so 53 minutes from the AirVOOC charger is still impressive given the extra heat from wireless charging. Quick comparison with vivo X80 Pro and 50W Wireless Flash Charger It shows that the Oppo X5 Pro finished a full charge of 5 minutes faster with a larger 5000mAh battery compared to the X80 Pro's 4700mAh cells.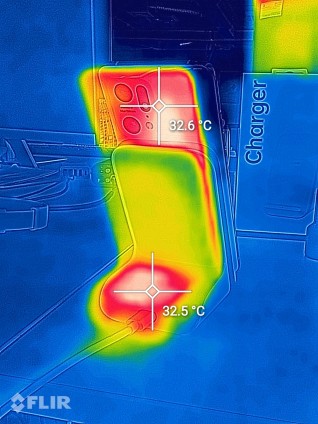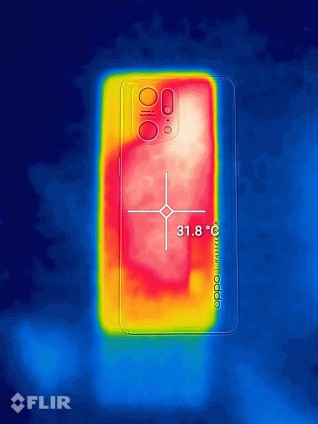 AirVOOC 50W Wireless Flash Charger Temperatures during testing and Oppo Find X5 Pro after charging to 100%
Surface temperatures on both the charger and the Oppo Find X5 Pro test unit remained cool and didn't cross the 33°C threshold at any point during our tests. Once the phone was charged, we immediately tested how hot the phone was and it was just under 32°C.

Oppo Find X5 Pro with AirVOOC 50W Wireless Flash Charger (5000mAh)




0 minutes

1%




5 minutes

13%




10 minutes

24%




15 minutes

34%




20 minutes

44%




25 minutes

54%




30 minutes

63%




35 minutes

71%




40 minutes

80%




45 minutes

88%




50 minutes

96%




53 minutes

100%






We also had the opportunity to test the SuperVOOC 80W car charger that promises the same charging speeds as the SuperVOOC 80W power adapter that comes with the Oppo Find X5 Pro. This is impressive given the size difference between the two chargers.
The 80W car charger is USB PD 3.0 compatible and has a traditional design with USB-C and USB-A ports and an LED charging indicator. Oppo is once again using a six-layer protection system like the AirVOOC wireless charger. It's important to note that you'll need to use the original Oppo USB-A to USB-C cable (which came with the Find X5 Pro) to reach maximum speeds of 80W (11V @ 7.3A).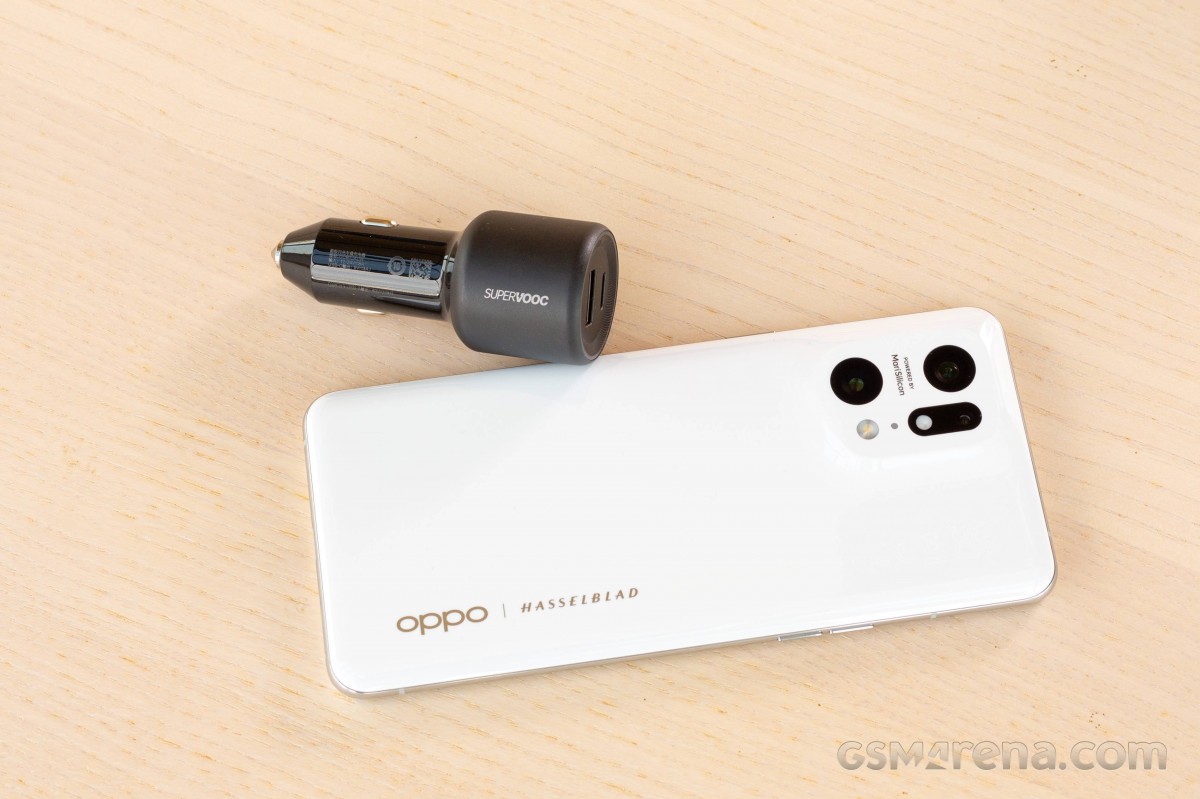 USB-C charging gives you speeds of up to 30W (11V at 3A) on any USB PD compatible device. You can also charge two independent devices via both ports simultaneously although the maximum speed will be limited to 33W over the USB-A port and 30W on the USB-C connector. With all this information, let's see what the Oppo car charger managed to manage with the Find X5 Pro.
It topped the first five minutes on the Find X5 Pro car charger at up to 25% and the phone charged to 43% after 10 minutes. The battery charge reached 70% after 20 minutes and settled at 92% after 30 minutes. Then it took another 10 minutes to reach full 100%.
full charge took 1-100% 40 minutes Which is the same result we got with the SuperVOOC 80W charger bundled on the Find X5 Pro. The car charger is as light as 40g and is the fastest car charger we've tested so far. We didn't notice any excessive heat coming from the charger during testing which is another plus.


Oppo Find X5 Pro with SuperVOOC 80W (5000 mAh) Car Charger




0 minutes

1%




5 minutes

25%




10 minutes

43%




15 minutes

58%




20 minutes

70%




25 minutes

82%




30 minutes

92%




35 minutes

98%




40 minutes

100%






For the sake of comparison, we have added the three chargers used in this experiment in the following chart to help summarize our findings. We can see both the 80W SuperVOOC wall charger (red) and the 80W SuperVOOC car charger (yellow) being neck and neck in terms of speed even though the smaller car charger has the advantage in most tests. On the other hand, we can see that the 50W AirVOOC (blue) wireless flash charger is a bit slower although it's still impressive to see it stick with the other two wired solutions.
Oppo's AirVOOC 50W Wireless Charger and 80W SuperVOOC Car Charger are among the fastest chargers in their class and bring fast charging times. AirVOOC 50W handles 1-100% charger only 53 minutes While the 80W SuperVOOC mini car charger does exactly the same 40 minutes On par with the larger 80W SuperVOOC charging brick that comes with the Find X5 Pro.
in €78 For AirVOOC 50W Wireless Charger and €40 For the 80W SuperVOOC car charger, Oppo is definitely charging a premium for the added benefit of super-fast charging. Most users would probably be better off using a regular Qi wireless charger and a basic car charger for everyday needs.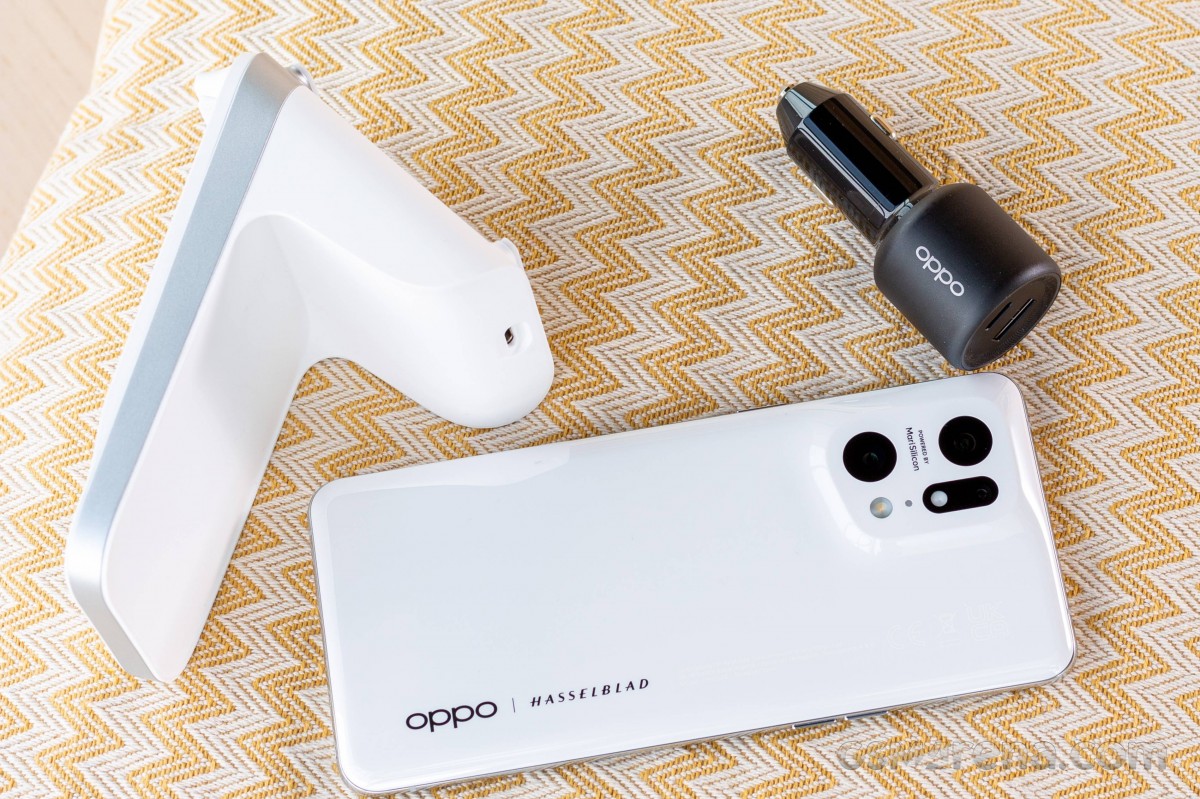 Leading Oppo and OnePlus owners who routinely need extra fast charging can rest assured that the AirVOOC 50W Wireless Charger and SuperVOOC 80W Car Charger are the best solution for their specific devices and can definitely forget about always charging with a regular charger at home or on the go.


#Oppo #AirVOOC #50W #Wireless #Charging #Charger #Test